There are lots of things to take into consideration when designing a bedroom: size and shape of the room, personal style, color preferences, budget, furnishings, age of the occupant of the room, and many other small details that we usually don't think about.
It is always a better idea to take the help and advice from professionals when decorating the room. They are trained for it.
1. Choose a dark and dramatic color
Choosing the right color on the walls can instantly add romance and effectively lift and change the mood of your bedroom.
Red color : You can give serious thought to this, you will find that most people think of red as the color of love. So you can either paint a wall red or add design elements in the color. Another way to use color is in the bedclothes and drapes.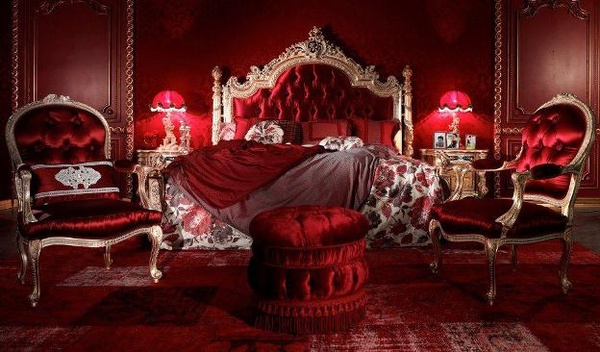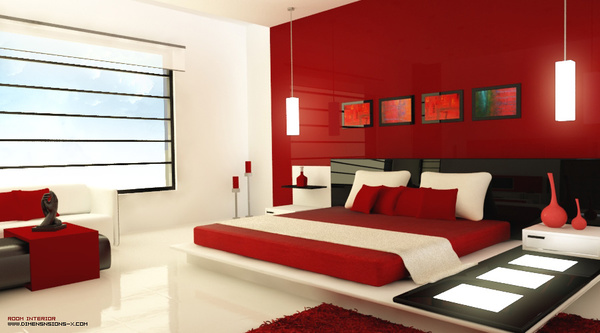 White color : White color is basic to the decorator's tool kit and using it in your room can really help you design your room perfectly according to its flexibility. Also the white walls reflect light around the room and emphasize the unique architecture of the space.
Ground an all-white space with black accents for a contemporary look. This all-white bedroom idea (floors, walls, and ceiling) enlists the help of a charcoal bed skirt and dark wood furniture to ground the decor.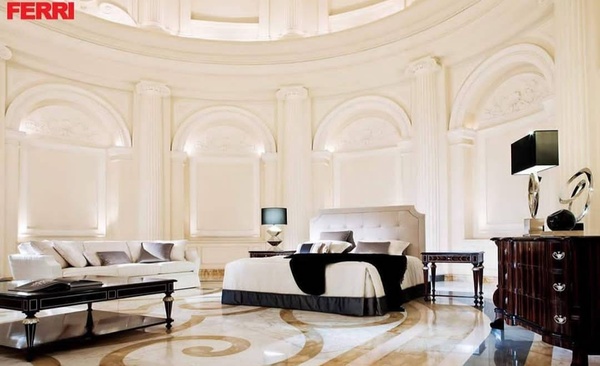 2. Add a Wallpaper
Adding a bold wallpaper pattern to a focal wall and using the right style and technique in your wallpaper will add a magical touch to your bedroom and makes it look bigger.
When selecting wallpaper, choose a large-scale pattern over a small, busy one. Don't forget to create a cohesive look by coordinating your bedding with your beautiful, new wallpaper.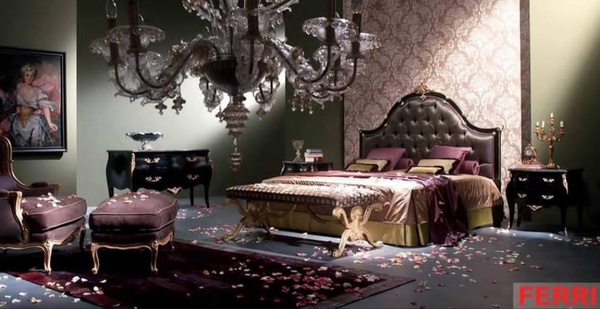 3. Lighten your bedroom
There is no rule that says chandeliers are only for dining rooms, use them in your bedroom and let it shine !
Adding a chandelier to your bedroom will shed light on your pretty personal space and enhance your bedroom's design statement.
For more details and tips on how to hang a chandelier you can read our previous article here : https://www.ferri-lb.com/media/blog/Q7dXy7vJMK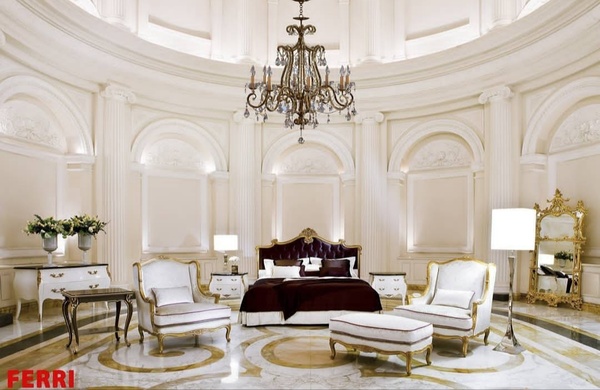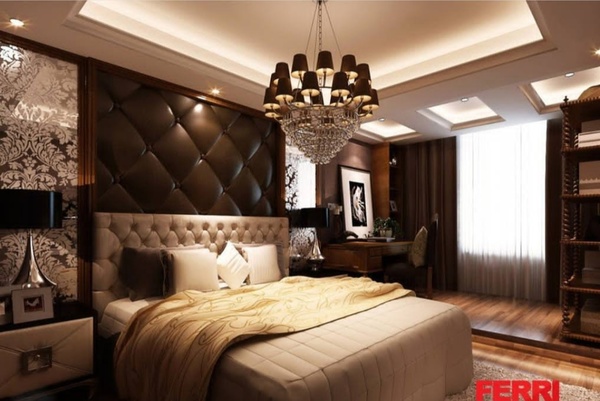 4. Keep your bedroom design perfectly balanced.
Want to make your room really stands out? It's all about the balance in your space.
The placement of furniture and the size of each piece affect the balance of a room. If all of the big pieces are gathered to one side of the room, it will be off-balance horizontally. In contrast, if most of the furniture is either too bottom heavy or too top heavy, your room won't be vertically balanced.
Another tip is to fill the emptiness with well chosen items in ceramic, metal, or wood, it will give unique vibe to your room.
5. Adding texture, design, and color to the ceiling
The ceiling is the fifth wall in a room. When you lie in bed, do you see a white or blank surface? Decorate it!
If you have a high ceiling you can paint the ceiling a slightly lighter version of the wall color in order to visually lower the ceiling and give the space a feeling of comfort and intimacy.
You can also stencil or wallpaper the ceiling, add texture and architectural elements in the form of beams or moldings or use a decorative paint treatment.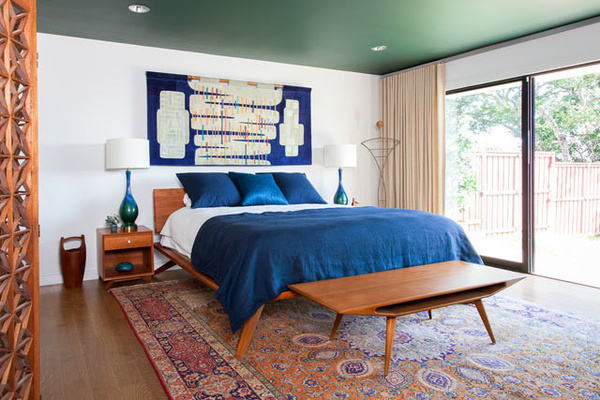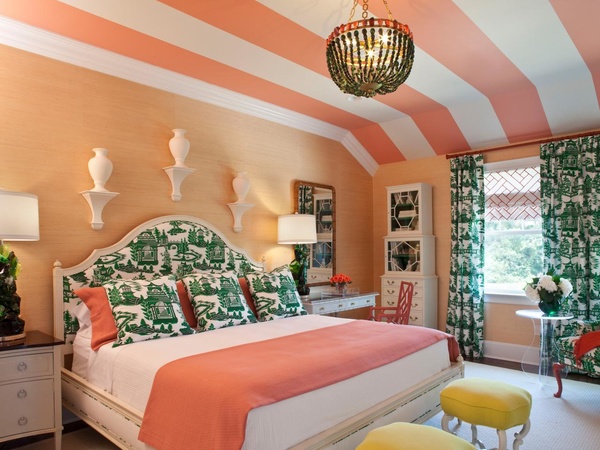 References :
http://www.simplelifeprattle.com/25-couple-bad-room-ideas/
https://www.thespruce.com/tips-for-decorating-a-beautiful-bedroom-1976169
https://www.idealhome.co.uk/bedroom/bedroom-ideas/romantic-bedroom-ideas-91583
A bedroom is a place to relax after a busy stressful day.
FERRI Interior Design professional team is always ready to help make your bedroom or any room in your home into your relaxing dream space.
We here at FERRI don't aim to only sell furniture but also to make sure our customers make the most benefit of these furniture by guiding them through our interior design specialist team that give them the knowledge, tips and ideas they need, so they can get a perfect home decoration and have an amazing experience.
Facebook Page : https://www.facebook.com/FERRIDESIGN/?fref=tag
Instagram : @Ferri.lb
Twitter : @FerriFurniture1